Peter Hacket was a casualty of the budget cuts to the UK Secret Intelligence Services (SIS).
He now contracts out his specialist black services for what's termed the deniable retread side to any Intelligence Service.

mbchattelle.me.uk - author of the Peter Hacket chronicles
Peter Hacket was a casualty of the budget cuts to the UK Secret Intelligence Services (SIS).
Now considered a deniable retread resource, he contracts out his specialist black services to any organisation or individual who can afford him.

The Mexican Ruiz crime family owned high quality printing presses to produce adult material which was smuggled to the European market. Times had changed with the Internet so the families financial fortunes faltered. As they did, the Belize drug cartels sort to take over Ruiz established smuggling operation.
Ruiz and his teenage son, relocated themselves to Miami, USA whereupon the boy was despatch off to boarding school where he made potentially exploitable contacts to revive the family fortunes.
On the boys return to Miami a plane was hatched to use the family printing facilities to produce Euros and smuggle them to Europe. Their, with the involvement of a US investment identity stripper, the money would be laundered through the Liberec Austrian Banking connections with whom the family had had a long term relationship.
What Hacket did not know when sent to Austria and then to Miami investigate the Ruiz family and it's source of income was that MI6 already had a resource within the Liberec Bank and Ruiz home monitoring the Ruiz accounts.
It wasn't long before Hacket clashed with the MI6 resource and learned about corruptible identity stripper's laundering activity on behalf of the Ruiz's.
Reporting back his findings to London, Hacket wasn't too happy with what he learned nor his instructions what the 'suits' wanted him to do. His dilemma was just how many would have to die to bury an 18 million Euros fraudulent operation.
"Not a fantasy read...but then you expose what the hell goes on and who mops the problem up."
JD, Berlin.
"I can only recommend that crime and secret service book enthusiasts read this and your other Hacket tales."
Kirkwood, UK
"Good stuff and I could identify with the locations…I've recommended on."
Brooch, expat in Mexico City.
"You set it up and knock it down....I loved the read...."
KK, New York, USA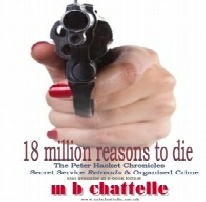 Format:
Soft cover - ISBN: 978-1-4567-8939-8
e-book - ISBN: 978-1-45678-940-4




Authors Video of overview (uncut large MP4 file) :
Video with Readers Interpretation on YouTube:
Video on YouTube with age restrictions imposed by them: